NOVACLINICAL at AMWC – Medellín – LATIN AMERICA
Publication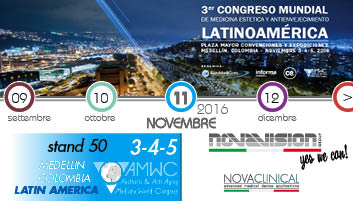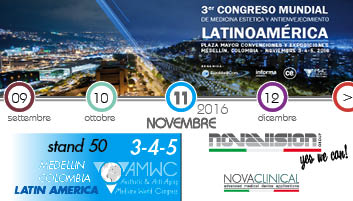 NOVACLINICAL at AMWC – Medellín – LATIN AMERICA
In a constant scenario of innovation as the medical aesthetic one, Novaclinical devices will be featured in the most important exhibitions and congress that serve to present the innovations of today and those of tomorrow.
The program will open with the participation in AMWC Medical World Congress on 3/4/5 November 2016 in Medellín, Latin America, where Novaclinical will present the industry first.
Novaclinical is synonymous with innovation; each product and technology are designed as medical solutions that will accompany you for a lifetime.
See you at BOOTH 50.
It's possible to schedule an appointment, by sending an e-mail to Ms Monica Cattaneo APAC, MENA & Rest of the World (m.cattaneo@novavision.net) or to Mr. Pedro Fernández Americas & Europe (p.fernandez@novavision.net).
For further informations, info@novaclinical.it
Press cutout for the exclusive use of Novavision Group SpA, not reproducible.