Novavision a MEDICA – DÜSSELDORF – GERMANY 2016
Publication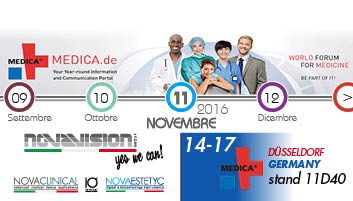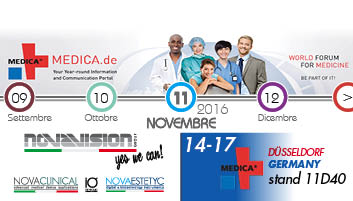 Novaclinical, Novaestetyc, IO' SKINCARE at MEDICA – DÜSSELDORF – GERMANY 2016
Also this year Novavision will participate in the most important fairs in the medical international scene, confirming the continuing desire of innovation, orientation to the future and its new technologies.
Düsseldorf will host from November 14th until November 17th the famous international kermesse event dedicated to the world of medicine where Novavision will participate fully with a stand dedicated to the evolution of the aesthetic medical world presenting a cutting edge device designed as a solution to all women's aesthetic desires and it won't stop there.
See you at BOOTH 11D40
It is possible to schedule an appointment, by sending an e-mail to Ms Monica Cattaneo APAC, MENA & Rest of the World (m.cattaneo@novavision.net) or to Mr. Pedro Fernández Americas & Europe (p.fernandez@novavision.net).
For further informations, info@novavision.net
Press cutout for the exclusive use of Novavision Group SpA, not reproducible.