Novaclinical ad AMWC a Medellín – LATIN AMERICA
Publication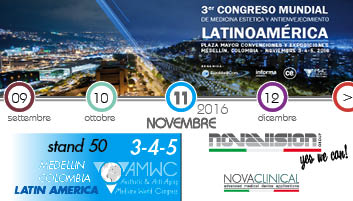 In un panorama in costante innovazione come quello medico estetico, le apparecchiature Novaclinical saranno protagoniste dei più importanti eventi fieristici e congressuali che fanno da vetrina alle novità di oggi e a quelle di domani.
Il calendario si aprirà con la partecipazione ad AMWC Medical World Congress il 3-4-5 Novembre 2016 a Medellin, Colombia Latin America dove Novaclinical presenterà le novità per il settore.
NOVACLINICAL è sinonimo di innovazione; ogni prodotto e tecnologia sono concepiti come soluzioni medicali che ti accompagnano per tutta la vita.
Vi aspettiamo allo STAND 50.
È possibile prenotare un appuntamento, inviando una mail alla Sig.ra Monica Cattaneo APAC, MENA & Rest of the World (m.cattaneo@novavision.net) oppure al Sig. Pedro Fernández Americas & Europe (p.fernandez@novavision.net)
Per maggiori informazioni info@novaclinical.it
Press cutout for the exclusive use of Novavision Group SpA, not reproducible.