Novavision a MEDICA – DÜSSELDORF – GERMANY 2016
Publication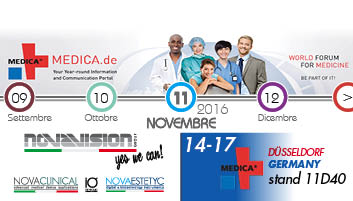 Novaclinical, Novaestetyc, IO' SKINCARE a MEDICA – DÜSSELDORF – GERMANY 2016
Anche quest'anno NOVAVISION con i suoi tre brand, parteciperà ai più importanti eventi fieristici del panorama internazionale medicale, confermando la continua volontà di innovazione, la propensione verso il futuro e le sue nuove tecnologie.
Düsseldorf dal 14 al 17 Novembre ospiterà Medica, celebre kermesse internazionale dedicata alla medicina nel mondo dove Novavision, parteciperà a pieno titolo con uno stand dedicato all'evoluzione del mondo medico estetico, presentando device all'avanguardia pensati come soluzione a tutti gli inestetismi della donna e non solo.
Vi aspettiamo allo STAND 11D40.
È possibile prenotare un appuntamento, inviando una mail alla Sig.ra Monica Cattaneo APAC, MENA & Rest of the World (m.cattaneo@novavision.net) oppure al Sig. Pedro Fernández Americas & Europe (p.fernandez@novavision.net).
Per maggiori informazioni info@novavision.net
Press cutout for the exclusive use of Novavision Group SpA, not reproducible.