RICONOSCIMENTO Associazione Urologia Ginecologica Pavimento Pelvico
Publication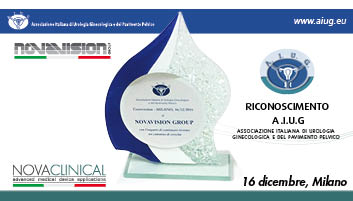 NOVACLINICAL divisione Medicale di Novavision Group, il 16 dicembre ha ricevuto un Riconoscimento dall'A.I.U.G (Associazione Italiana di Urologia Ginecologica e del Pavimento Pelvico) con l'augurio di continuare insieme un percorso di crescita e collaborazione continua.
Ringraziamo l'A.I.U.G e tutti i membri del nostro team che ogni giorno contribuiscono al successo di Novaclinical.
Press cutout for the exclusive use of Novavision Group SpA, not reproducible.